First Service Coffee: In-Between Series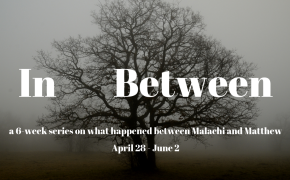 In-Between: What Happened Between Malachi & Matthew?
An 8-week study looking at the 400 years between the Old Testament and the New, also known as the Intertestamental Period. We will spend some time on the theological, cultural, historical, and literary changes and sources in the Ancient Near East leading up to Jesus' ministry. Taught by Pastor Joe Brown.
April 28, 2019: Audio | Handout
May 19, 2019 : Audio | No Handout Available
Guest Speaker: Jon Greenhill
May 26, 2019: Audio | Handout
Guest Speaker: Tim Sinclair
June 2, 2019: Audio | Handout

June 9, 2019: Audio | Handout
June 16, 2019: Audio | Handout