We will continue to seek out innovative ways to encourage and connect our students and families during this time of social distancing. If you have ideas that you think would be helpful, please share those with us. REMINDER: Please let us know if you or your family needs anything.
Contact Tim Cornwell or Marcela Henderman with any concerns, needs, or questions.

---
Virtual Office Hours for Tim and Marcela
Thursdays, 1:00-2:00PM on Zoom
We miss you and would love to see your smiling faces and hang out with you! We will be in our 'office' on Zoom every Thursday if you want to come hang out and chat for some or all of that time.
---
Next meeting: june 3
---
SENIOR CELEBRATION!
Sunday, June 14, 2020 (Time TBD)
We will be honoring our graduating seniors and remembering God's faithfulness and goodness to them in a whole new way this year! We are still working out details, but will be in touch as soon as we have them.
---

WEPC High School Summer Trip
Online registration is now open!
As of now, our high school trip (rising 9th grade through graduating seniors) to NorthBay Adventure Camp from July 31-August 4, 2020 is still happening! Click the link below to learn more and to register.
---
During this season when so much is canceled and on hold, we want to encourage our middle school and high school friends to redeem their time by offering it to the Lord. We will be posting a "Quarantine Challenge" on Mondays, Wednesdays and Fridays with suggestions to help you spend time with God, serve others, be creative, and see the world. We hope you will jump into this adventure with us! Make sure to post a photo or video of your challenge on Instagram (@wepcyouth) and/or email them along with stories of how you see God at work to Marcela ( ).
We love you and are praying for you.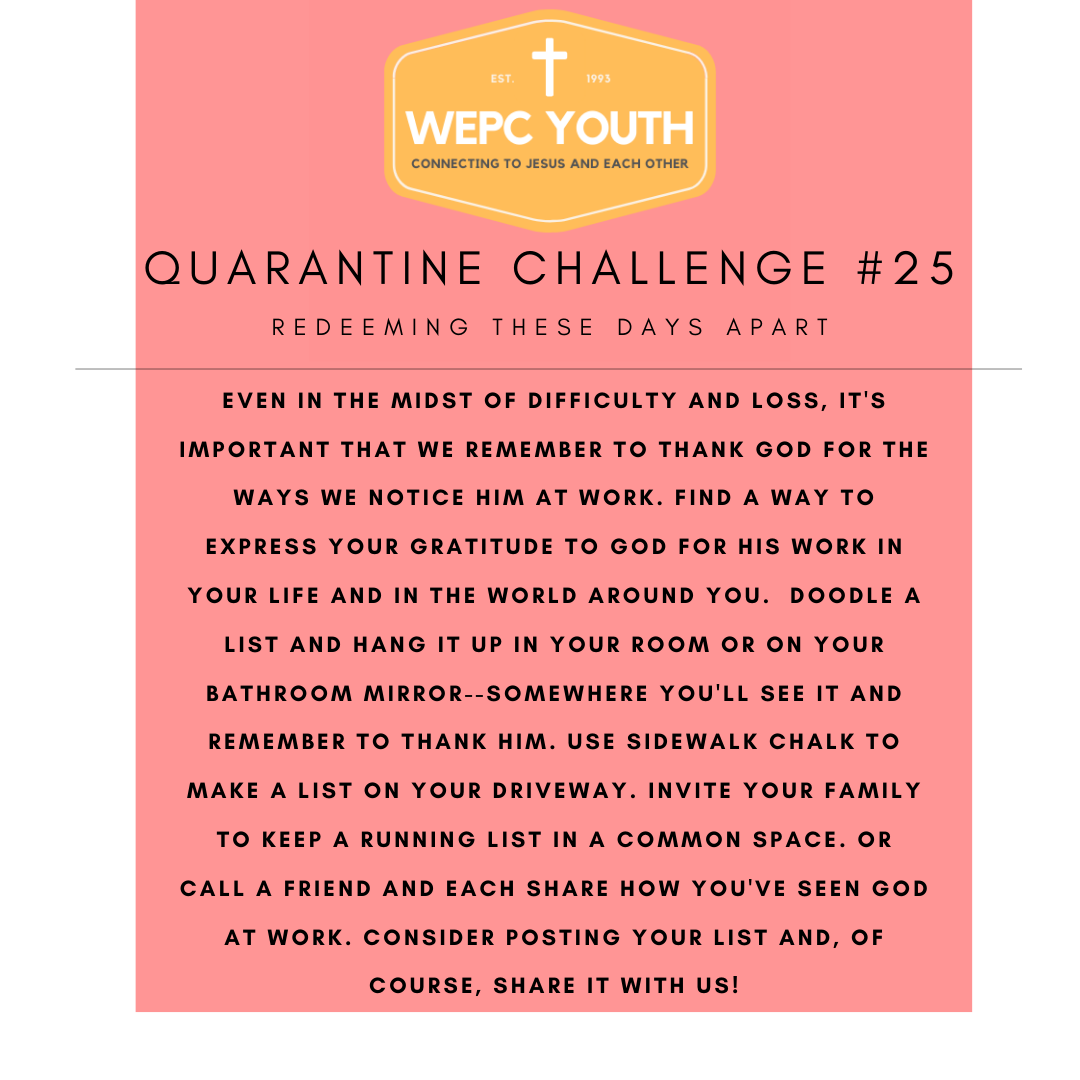 ---
Weekly Devotional Journals from the Gospel of Luke
Just as physical food and nourishment are essential for physical survival, we need spiritual nourishment for our spiritual livelihood as well. God has given us His Word to remind His people of what is true and to grow us spiritually
through the work of the Holy Spirit.
During times like this, it can be hard to remember what is true, especially that Jesus understands our situation and really gets us. We will posting weekly devotional journals working through the Gospel of Luke that will remind us that not only does Jesus 'get us,' but he pursues and provides for us in every way. Each day, there is an opportunity to learn the art of journaling, read Scripture, reflect on what that means for your life, and to pray. Our hope is that God will use these times to remind you
of just how much He loves you.
---
WEPC Youth Texting List
We use our texting list to send information and reminders about upcoming happenings directly to students. Two ways for students to be added to our texting list:
Click HERE and Enter Name and Cell Phone Number
OR

Text "WEPCYOUTH" to 40650
(Important: Terms of Service & Privacy Policy Message frequency may be periodic. Msg & Data rates may apply. To cancel, send STOP to 40650 at any time. For help, send HELP to 40650 at any time.)
---

Follow us on Instagram: @wepcyouth
We use Instagram to post pics, videos, information and reminders about upcoming happenings.
---
WEPC Youth Prayer and Encouragement Group on GroupMe
This is a place for students and leaders to post encouraging words and Scripture as well as prayer requests.
Click HERE to Join the Prayer and Encouragement Group
---
Contact Tim Cornwell or Marcela Henderman with any questions.