WEPC offers a variety of opportunities throughout the week for adults to gather for fellowship and discipleship.


wednesday night fellowship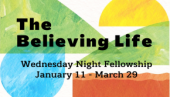 The Believing Life
Weekly through March 29
6-7:30 PM / WEPC Chapel

What is the Gospel? How does the Gospel shape every aspect of life? Believing is hard, and following Jesus changes how we live. Whether you consider yourself to be a long-time Christian or a skeptic,The Believing Life is designed to help you grow in and through the power of the Gospel. Led by Pastor Kevin Greene, Chip Bowman, and Worship Arts Director Becca Wethered. Visit the class page for the schedule of themes/topics for the class.

---
Current Class:

Deconstruction
Last class on January 29 / 9:00 - 10:15 AM / Room 810
When churches fail, pastors fall, and doubts rise, it is tempting to dunk your faith. What is driving the trend to "deconstruct" one's faith and how can we care for those who have left the church because of hypocrisy and sin? How can we build up our own faith? Led by Pastor Joe Brown and Brandon Blevins (Young Life Goochland).
Upcoming classes:
February 5: Fellowship Day -- 9AM / Rm 810 / Join us for food, fellowship, and a testimony.
February 12 - May 28: Two NEW Adult SS classes / 9 AM / Rooms 19 & 810

The Meaning of Marriage: Facing the Complexities of Commitment with the Wisdom of God: Using the video series by Timothy and Kathy Keller, this will be a discussion class facilitated by seasoned couples John and Anne McGurn, John and Joyce Minor, and Gary and Kitty Witthoefft. We encourage you to buy the book ahead of time so that you can read along with the class, but it is not required for class participation.

Book of Revelation: Have you ever been confused about Revelation? Do you wonder whether this book of the Bible is relatable to your life? Join Joe Brown and Matt Bouknight for a study of this often misunderstood book to be encouraged and challenged in your faith. Revelation 17:14: "They will make war on the Lamb, and the Lamb will conquer them, for he is Lord of lords and King of kings, and those with him are called and chosen and faithful."
---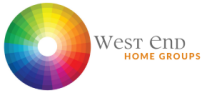 Home groups are a great way to make a big church smaller, meet people, and get into the Word. If you have questions about home groups at WEPC, or would be interested in joining one, please contact Joy Andrews.
---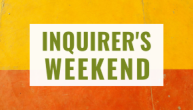 January 27-29, 2023 / Fellowship Hall
For those interested in learning more about our church and the possibility of membership in the future. Inquirer's Weekend is a wonderful time to meet our pastors in a group setting and learn some foundations of Christianity, foundations for our church's worship, and opportunities for connection and service with others. Click HERE for more information and details. Questions or to RSVP, contact Karen Howe.
---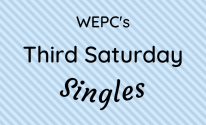 Meets the third Saturday of every month.
Next Gathering: February 18, 2023 / 4:00-5:30 PM / Library
Join us for fellowship, devotional study, prayer, and an optional dinner. Visit the event page for more information, or contact or .
---

Subscribe wherever you listen to podcasts
Season 1: Advent 2020
Season 2: Ecclesiastes - Spring 2021
Season 3: Acts - Summer 2021
Season 4: 12 Components of Discipleship - 2021-2022
Season 5: Human Sexuality - Fall 2022
Season 6: Deconstruction - February 2022