UPcoming events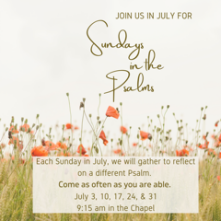 Join us each Sunday in July as women gather to study and reflect on the Psalms. We will focus on a different Psalm each week, so you may jump in anytime. All women are welcome! Please reach out to Kim with questions.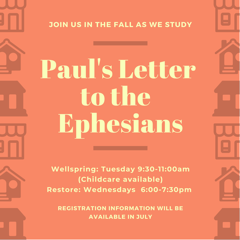 Wellspring & Restore ~ Fall 2022
Please consider joining us for Wellspring or Restore, our weekly Bible studies, this fall. Look for more information about registration in July! In the meantime, please reach out to Brice with questions.


Women's Retreat
February 25 & 26, 2023
Roslyn Retreat Center
We are excited to gather for a Women's Retreat! Save the date and look for more information coming this fall! In the meantime, please reach out to Heather with questions.