upcoming event: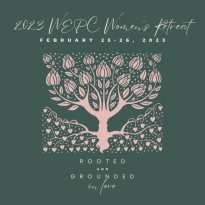 2023 Women's Retreat
REGISTRATION NOW OPEN!
February 25 & 26, 2023 / Roslyn Retreat Center, Richmond, VA
The weekend will be an opportunity for rest and refreshment in the gospel, while growing in community with the women of WEPC. Click on the button below to learn more and register!
Women's Retreat Information Page and Registration
---
2022-23 Bible Studies: Wellspring and Restore

Our Vision
The vision of Wellspring and Restore Women's Bible Studies is for women to encounter Jesus in His Word and in one another. Our tables, our studies, and our teaching are all led by women who are in covenant community with one another and with the leadership of WEPC, in the love of Christ.
It is our ministry philosophy to develop leaders and their groups relationally and thoughtfully in the grace of Jesus Christ. .
If you are a member/regular attender of WEPC or do not have a church home, we invite you to register for our study! If you have a church home other than WEPC, we would love to have a conversation with you before you register! We are open to questions and conversation about any woman's interest in participating in Wellspring and Restore. We invite you to reach out to us at .
Our Study
Paul's letter to the Ephesians was actually sent to many churches, the church in Ephesus being one of them. It is a communal letter that speaks to individuals, but ultimately to a community of believers in these first century churches. What does Paul want them to know? What does Paul pray for them to grasp? How does Paul see the church responding to all that Christ has done for them? Together we will sit in these words, allowing the Spirit to enlighten our hearts that WE ALL may grasp how wide and long and high and deep is the love of Christ, and to know this love that surpasses knowledge (Ephesians 3:18-19).


Details
Wellspring
Resumes on January 17, 2023; runs weekly through May 9, 2023.
Tuesdays / 9:15-11:30 AM / Cost: $40
Wellsquirts Childcare is available for Infants through Pre-K children (Guaranteed childcare deadline was August 15)

Restore
Resumes on January 18, 2023; runs weekly through May 10, 2023.
Wednesdays / 6:00-7:30 PM / Cost: $40

***Scholarships are available for both Wellspring & Restore. Contact Brice to request a scholarship.***
Recordings
Wellspring Recordings:
Study 1: September 27, 2022 (This is Restore's recording from 9/28 because of a technical issue on the 27th.)
NO RECORDING on Nov 1 (Fellowship Day)
NO MEETING on Nov 8 (Election Day)
Study 7: November 15, 2022 (using Restore's recording)

Restore Recordings:
Study 2: October 4, 2022 (Wellspring's recording was used for this date)
NO RECORDING on Nov 2 (Salad/Fellowship Night)
NO MEETING on Nov 23 (Thanksgiving Break)
Study 12: January 25, 2023 (Incomplete recording; you can also listen to Wellspring's 1/24/23 recording for this study)
Click here for PDFs of the Studies
---

Past events:
Advent Sundays in the Psalms
Class is complete, but weekly recordings from each class are available below.

Recordings of classes:
Gathering 2: December 11, 2022
Gathering 3: December 18, 2022

July Sundays in the Psalms
Class is complete, but weekly recordings from each class are available below.


Recording of Lesson 1 / July 3:

Recording of Lesson 2 / July 10:
Recording of Lesson 3 / July 17:
Recording of Lesson 4 / July 24:
Recording of Lesson 5 / July 31: