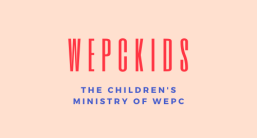 Our children's ministry, wepckids, strives to bring the Gospel to bear
in every facet of children's lives.

---
UPCOMING EVENTS
Birds & Bees
Join us for a simple online course that gives you as parents the tools and confidence to talk to your young kids about sex. We will set aside time for discussion after each session.
*Each session will be held in the chapel.
Session A
Sunday, October 2 and Sunday, October 9 / 9:00 -10:15 AM
OR
Session B
Monday, October 3 / 6-8:30 PM
OR
Session C
Friday, October 14 / 9 AM-12 PM

Kids' Club
Begins Wednesday, October 12! / 6-7:30 PM / Room 25


Thankful for Jesus and Donuts (Donut Truck)
Wednesday, November 9 / 4:30-6:30 PM / WEPC Parking Lot
---
volunteers
Click on the button below to find out when you serve in Sunday School, Children's Worship, and Nursery.
---
Ministry age groups
Our nursery offers newborns to three years old safe, nurturing care during Sunday morning services.

Preschoolers through Grade School
Children ages 4-10 have many chances to grow in the Gospel:
Preschool Quest offers four- and five-year-olds music, crafts, creative storytelling, and much more during Sunday services.
Sunday School classes are offered every Sunday morning to teach children the content of our faith.
During the school year, Wednesday evenings are time of fun and discipleship in small groups at Kids Club and 4.5 Connect (for 4th and 5th graders).
---
Resources