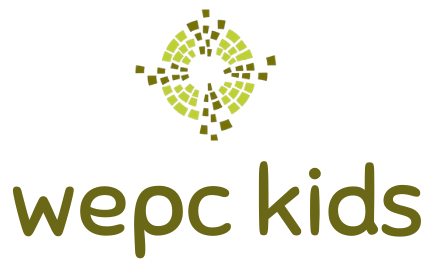 Our children's ministry, wepckids, strives to bring the Gospel to bear
in every facet of children's lives.

---
Backyard Children's Worship
(Age 3 years-5th Grade)
When: Sundays during the 10:30 AM service
Location: Playground & Chapel
PK-1st grade will be dismissed to the Chapel first for a lesson, then go play on the playground. Parents will pick up their child from the playground.

2nd-5th grade will be dismissed to play on the playground first, then come inside for a lesson in the Chapel. Parents will pick up their child from the Chapel.

Volunteers Needed!
*We are in need of volunteers for Backyard Children's Worship! This new plan will require several more volunteers each week. Please consider signing up to serve our children.

Reminders:
Children will sit through the first part of worship with their families until they are called to exit the sanctuary.
Temperature checks for each child will be administered.
Adults and children five years old and above are required to wear masks.
---
Nursery (Infant-2 years)
We are so excited to open the WEPC Nursery! We pray this time on Sunday morning is a blessing for your children and for your family.
We are offering nursery to children who are infants, one, and two years old. (Three and four year old children will continue going to Children's Worship.)
Nursery will be offered during the 10:30 service only.
Volunteers:
We will continue needing volunteers to work in the nursery. Please consider volunteering to serve WEPC kids.
Click HERE to Volunteer with Nursery
New Arrival Procedures:
Check-In will open at 10:15 AM.

Our Check-In/Welcome Desk will be located in the East Foyer hallway.

Please be prepared to say goodbyes here. As a precaution, we are not permitting anyone except volunteers/staff members in the nursery rooms.
New Dismissal Procedures:
Parents will pick up children immediately following the end of the service at the nursery Welcome Desk.

Please do not pick up children earlier and take them back to the sanctuary. This will hopefully limit movement and maximize social distancing while in the sanctuary.
Other Information:
Temperature checks for all volunteers and children will take place at the Check-In/Welcome Desk.
Rather than a large diaper bag, please bring supplies for your child in a gallon size Ziploc bag with the name clearly marked. One will be provided if needed.
A snack (pretzels or cheerios) will be served each Sunday. Please send a cup labeled with your child's name. * Any allergies or other pertinent information about the child should be communicated to the volunteer at check-in.
---
When We get back to normal...
Infants & Toddlers – Our nursery offers newborns to children three years old safe, nurturing care during Sunday morning services.
Preschoolers – We offer a variety of programs for preschoolers: Preschool Quest offers four- and five-year-olds music, crafts, creative storytelling, and much more during Sunday services. The WEPC Community Preschool offers two through five-year-olds quality, God-centered education during the week.
Kindergarteners & Grade School – Children ages 5-10 have many chances to grow in the Gospel: Sunday School classes are offered every Sunday morning to teach children the content of our faith. During the school year, Wednesday evenings are time of fun and discipleship in small groups at Kids Club and 4.5 Connect (for 4th and 5th graders).
---