Our children's ministry, wepckids, strives to bring the Gospel to bear in every facet of children's lives.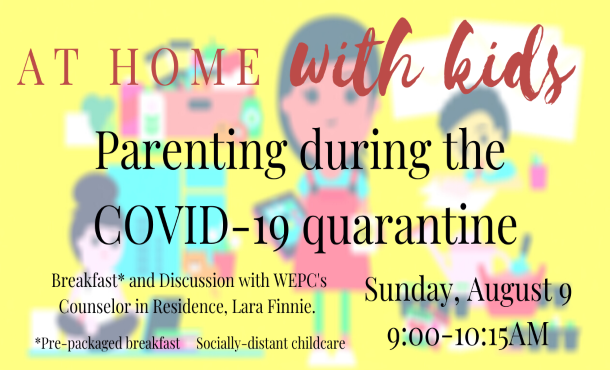 Weekly Bible Lessons

Weekly lessons from curriculum, Show Me Jesus will be posted every Wednesday.
Each week will include:
1. Video teaching of the Bible story families can play from home (Taught by B.A. Snyder-Great Commission Publications)
2. Parent page (PDF) explaining the lesson focus and Scripture memory, giving parents good Bible background to go further with their kids
3. Coloring sheet and activities (PDF) that families can do together
*Families will be following the life of Jesus to see that He is truly God, exploring stories that will encourage the whole family during this time:
Week Four
Kids Quest
The children's ministry team at WEPC released a series of four weekly Kids Quest videos based on our VBS theme for the year, "Lost Canyon."
The latest episode can be viewed in the screen below, seen on the church's YouTube account, and will was emailed to the wepckids email list (contact to make sure you are on the list to receive wepckids emails).
All previous episodes can be found at the church's YouTube account.
The conclusion of Kids Quest Lost Canyon:
Last week's episode:
Summer 2020 Memory Verse - Psalm 23

Magnets will be made available when we get out of this COVID-19 quarantine.
Virtual Kids Club videos
The conclusion of the Virtual Kids Club videos (originally published in March and April of 2020 as a means to conclude our study of the life of David due to the COVID-19 quarantine) can be seen below. All five episodes can be viewed here.
When We get back to normal...
Infants & Toddlers – Our nursery offers newborns to children three years old safe, nurturing care during Sunday morning services.
Preschoolers – We offer a variety of programs for preschoolers: Preschool Quest offers four- and five-year-olds music, crafts, creative storytelling, and much more during Sunday services. The WEPC Community Preschool offers two through five-year-olds quality, God-centered education during the week.
Kindergarteners & Grade School – Children ages 5-10 have many chances to grow in the Gospel: Sunday School classes are offered every Sunday morning to teach children the content of our faith. During the school year, Wednesday evenings are time of fun and discipleship in small groups at Kids Club and 4.5 Connect (for 4th and 5th graders).
---