---
Missionaries-in-Residence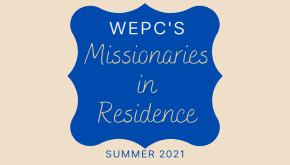 Let's Get Together!
Would you like to arrange a personal, family or group meeting with WEPC's Missionaries in Residence?
Go HERE and schedule a call or meeting. Meetings are available now for video calls, and after June 21 for everything else!


---
WEPC MISSIONS ROSTER
WEPC partners with strategic global and local missions which emphasize church planting and evangelism.


GLOBAL:
Avant, Spain: S & K*
MIssion to the World (MTW): Chris & Janna Lee

Peru Churches: Moises Buendia and Santos Buendia
seeJesus: Mafdi*
Serge
Great Britain: A & S*
London: Matt & Jenn Irvine
Rob & Rebecca Musser
Prague: Phil & Shanna Davis
South Sudan: Bismark Avokaya
Spain: J & S*, T & S*
Uganda: Jenna Murphy Opedun
SIM
West Africa: L*
*names withheld for security reasons
UNITED STATES:
CRU Bridges
Columbia University: Lauren Davis
VCU: Joshua Earman
CRU Richmond/VCU: John-Mark & Meg Walker
FOR Richmond: Matt & Anna Shenk
Global Frontier Mission (Atlanta): Bill & Suzanne Scott
Int'l Students, Inc., Charlottesville: Patrick & ChristyLynne Flynn
InterVarsity
Mary Washington: Grace Alexander
Randolph-Macon: Kristen Cooke
Richmond Justice Program: Lisa Keller
VCU: Kip Hart
Reformed University Fellowship (RUF)
VCU: Peter Lyon
Texas: Andy Wood
WUSL: Coleman Greene
Serge
Leadership & Language: Karen Masso
Member Care: Meredith & Sandy Elder
Virginia HUB: Steve Byrd
Young Life
Chesterfield: Matt Bouknight, Grace Coman
Goochland: Brandon Blevins
Hanover: Dave Blanco, Nick Anguiano
Richmond City: Tiont Williams
West End: Will Funk, Tracy Payne
Young Lives: Shanita Mickie
NY/CT: Tim Toy

ORGANIZATIONS:
The Barnabas Center
Child Evangelism Fellowship of Virginia
Christian Counseling and Training Center
CrossOver Ministry
The Gideons International
Needles Eye Richmond
Pregnancy Resource Center
Prison Discipleship (James River Presbytery)
seeJesus
STEP
Sweet Monday