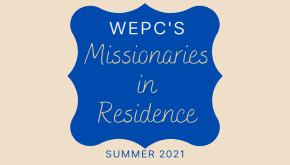 Come and meet via video WEPC's Summer 2021 Missionaries-in-Residence (MIR)! This brief 30 minute gathering, hosted by the WEPC Mission Team, will introduce you to this family & their ministry.
SUN, May 16, 12:00-12:30PM, WEPC Chapel
RSVP here to meet our missionaries!

Help Needed
Our MIR family will be limited in what they can bring home and travel with, and has asked if the church body could help with some of the needs for their 2 young children.
New (or gently used) girls' clothing: size 5, 6, and 7 (summer and fall)

Small bikes with training wheels

Bike helmets

A 3-wheeled scooter

Games & puzzles for 4-6 year old children

Target gift cards
Please drop off any donations to the WEPC Church Office. Questions: AmyCaroline Wilks


Cross-Cultural Film Festival
WED, June 30 / 7-8:30 PM / Fellowship Hall
"You bring some strange things to our ears. We wish to know therefore what these things mean." -Acts 17:20
How would you communicate the Gospel to someone you would never see in person? Who lives in a radically different culture? Who would be an outcast if they took your message seriously?
When you can't be face to face, presenting the Good News of Jesus can be done through storytelling via film. Many stories open doors to conversations which lead to discipleship.
Join us for a Cross-Cultural Film Festival to view and discuss original short films that have been distributed through social media in closed countries to share the heart of the Gospel. Led by WEPC's Missionaries in Residence.


Growing in Cross-Cultural Friendships
SUN, July 18 / 12-1 PM / Fellowship Hall
"You worship what you do not know; we worship what we know." -John 4:22
It's challenging to build relationships across cultures. Yet in many ways, it is at the heart of the church following Jesus in His mission to the world. Join us for a discussion of how you might grow in friendship and take loving risks for the sake of the Gospel. Led by WEPC's Missionaries in Residence.


---
Short Term Missions
In light of the 2020 global pandemic, WEPC is still pursuing spring/summer 2021 short-term teams while continuing to wisely monitor the progression and impact of COVID-19 on international travel. We continue to pray for God's advancing Kingdom and seek input from agencies and professionals qualified to speak into decisions surrounding the pandemic.

Visit our Short Term Missions page to learn about upcoming opportunities.
---
WEPC MISSIONS ROSTER
WEPC partners with strategic global and local missions which emphasize church planting and evangelism.


GLOBAL:
Avant, Spain: S & K*
MIssion to the World (MTW): Chris & Janna Lee

Peru Churches: Moises Buendia and Santos Buendia
seeJesus: Mafdi*
Serge
Great Britain: A & S*
London: Matt & Jenn Irvine
Rob & Rebecca Musser
Prague: Phil & Shanna Davis
South Sudan: Bismark Avokaya
Spain: J & S*, T & S*
Uganda: Jenna Murphy Opedun
SIM
West Africa: L*
*names withheld for security reasons
UNITED STATES:
CRU Bridges
Columbia University: Lauren Davis
VCU: Joshua Earman
CRU Richmond/VCU: John-Mark & Meg Walker
FOR Richmond: Matt & Anna Shenk
Global Frontier Mission (Atlanta): Bill & Suzanne Scott
Int'l Students, Inc., Charlottesville: Patrick & ChristyLynne Flynn
InterVarsity
Mary Washington: Grace Alexander
Randolph-Macon: Kristen Cooke
Richmond Justice Program: Lisa Keller
VCU: Kip Hart
Reformed University Fellowship (RUF)
VCU: Peter Lyon
Texas: Andy Wood
WUSL: Coleman Greene
Serge
Leadership & Language: Karen Masso
Member Care: Meredith & Sandy Elder
Virginia HUB: Steve Byrd
Young Life
Chesterfield: Matt Bouknight, Grace Coman
Goochland: Brandon Blevins
Hanover: Dave Blanco, Nick Anguiano
Richmond City: Tiont Williams
West End: Will Funk, Tracy Payne
Young Lives: Shanita Mickie
NY/CT: Tim Toy

ORGANIZATIONS:
The Barnabas Center
Child Evangelism Fellowship of Virginia
Christian Counseling and Training Center
CrossOver Ministry
The Gideons International
Needles Eye Richmond
Pregnancy Resource Center
Prison Discipleship (James River Presbytery)
seeJesus
STEP
Sweet Monday