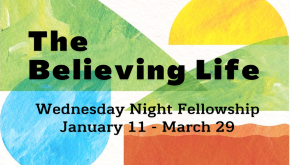 Every Wednesday, from 01/11/2023 to 03/29/2023, 6:00 PM - 7:30 PM
What is the Gospel? How does the Gospel shape every aspect of life? Believing is hard, and following Jesus changes how we live. Whether you consider yourself to be a long-time Christian or a skeptic, The Believing Life is designed to help you grow in and through the power of the Gospel. Led by Pastor Kevin Greene, Chip Bowman, and Worship Arts Director Becca Wethered.
Wednesday Night Fellowship runs concurrently with the WEPC nursery, K-5 Kids Club, Middle School Youth Group, and Restore Women's Ministry.
| | |
| --- | --- |
| Date | Topic |
| Jan 11 | What is the Gospel? |
| Jan 18 | The Gospel Grid |
| Jan 25 | Pretending and Performing |
| Feb 1 | Believing the Gospel |
| Feb 8 | Law and Gospel |
| Feb 15 | Repentance |
| Feb 22 | |
| Mar 1 | Heart Idolatry |
| Mar 8 | Mission |
| Mar 15 | Forgiveness |
| Mar 22 | Conflict |
| Mar 29 | Wrap-Up |