WEPC 25: Vision Team Update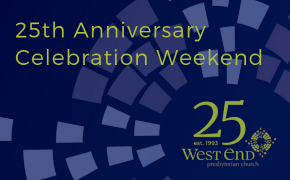 On Sunday, October 14, as part of our 25th Anniversary Celebration Weekend, WEPC Elder Roger Johnson gave an update from the Vision Team on the various outreach ministries of our church.
"Our union with Christ is the cornerstone of our faith. It is the first and last issue that matters to the living and the dying in terms of the application of the Gospel to our lives. More than strategic-thinking or good communication strategies the life of the Church hinges on its union with Jesus Christ. The church is in Christ, of Christ and for Christ. We belong to him and he belongs to us." (Pastor Steve Shelby)
WEPC Vision: To Be a Biblically Authentic Community of Faith Expressing Itself Through Love
WEPC Mission: To Make Followers of Jesus Who Bring the Gospel to Bear on Every Facet of Life and Culture
WEPC Core Value: The Gospel Changes Everything
Additional notes (PDF) are available from Roger's presentation, including a listing of WEPC-supported missionaries and organizations.