In Jesus' Name Food Pantry
SUNDAYS, 12-1PM
Leaders: and Black
We would love to have individuals, families, ministries, and home groups consider donating items to restock our shelves.
Our current needs as of 7/18/21:
Fresh/Frozen Ground Beef (1 lb and 3 lb packages)
Dark Chicken Meat
Diapers (size 5,6)
Salt
Flour (5 lbs)
Oil (1 and 1.5 qt)
Sugar (4lbs)
Canned Peaches
Canned Pineapple
Canned Diced Tomatoes
Creamy Peanut Butter
Lentils
Toilet paper
Please leave your donations on a cart just inside the east entrance door. (If you donate fresh or frozen meat, please let someone in the office know)
---
The goal of WEPC's Mercy Ministry is to bring glory to God through addressing the physical and worldly needs of those in the WEPC family and the surrounding community in a biblically sound, compassionate, wise, and effective manner.
WEPC's Deacons and Deacon Assistants lead this ministry and meet regularly with those in need, both in our congregation and in our wider community, to listen and to pray with and for them. Deacons and Deacon Assistants also connect them to other WEPC ministries, such as the Community ESL School and In Jesus' Name Food Pantry, and offer assistance with budgeting, navigating health care, and beginning the citizenship process, among many other things based on individuals' needs and WEPC's ability to help. When deemed appropriate, Deacons and Deacon Assistants are also able to offer short-term financial assistance through WEPC's Mercy Fund.
If you would like to support the work of the Mercy Ministry, you may give financially (choose "Deacon Mercy Ministry Fund) to the Mercy Fund, donate or volunteer with the Food Pantry, and learn more about becoming a Deacon Assistant.
---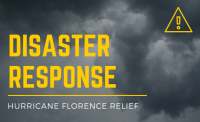 If you are interested in learning more about the Presbyterian Church in America's Disaster Response Ministry, please visit Mission to North America's website. There are current opportunities to pray, serve, or give.