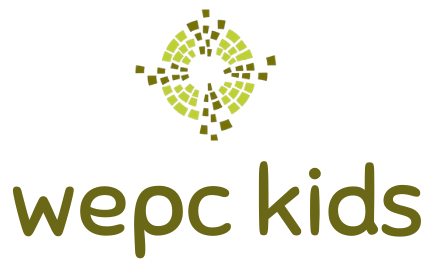 Our children's ministry, wepckids, strives to bring the Gospel to bear
in every facet of children's lives.

---
Backyard Children's Worship
(Age 3 years-5th Grade)
When: Sundays, during the 10:30 a.m. service
Location: playground/grassy courtyard area
(Rain location: Chapel)

*RSVPs not required*
Details:
-The children will sit through the first part of worship with their families until they are called to exit the sanctuary.
-We will be doing temperature checks for each child before we walk out to the courtyard by the playground.
-Adults will be required to wear masks until we get outside.
-We will head outside (courtyard and playground area) for a 15-20 minute Bible lesson and fun until the 10:30 service is over.
-Some weeks a craft will be included and some weeks the children will play on the playground and socialize with others.
-You will pick up your children on the playground once the service is over.
-Our hope is that we can stay outside until it gets too cold (or rainy), then move into the chapel.
-The leaders/volunteers will follow a new curriculum so that the lessons are cohesive, and simply point your sweet kiddos to Jesus each and every week.
Click here to VOLUNTEER with Children's Worship
---
Nursery (Infant-3 years)
As more families have started to come back we've been thinking about your little ones. Although we can NOT fully open our nurseries at this time with volunteers, we would like to give you an opportunity to use a nursery room if you and your child need a break from the service.
If your baby needs to be fed, changed, or just a quiet place to be, then you are welcome to visit the Infant nursery (room 111) for your needs. We would ask that adults wear a mask, everyone use hand sanitizer before entering, keep socially distant from others, and wipe down any toy your child may touch.
For children who are walking, up through the age of three, we invite you to visit our Toddler nursery (room 118) if a break is needed. Again, face masks, sanitizing, staying socially distant, and wiping down any toys that your child touches would be much appreciated.
A sign-in sheet will be provided in each room. Please sign your name, your child's name, and the time you were in the room. Hand sanitizer and Lysol wipes will also be provided. Extra masks can be found at the front of the church at the Welcome Center.
---
When We get back to normal...
Infants & Toddlers – Our nursery offers newborns to children three years old safe, nurturing care during Sunday morning services.
Preschoolers – We offer a variety of programs for preschoolers: Preschool Quest offers four- and five-year-olds music, crafts, creative storytelling, and much more during Sunday services. The WEPC Community Preschool offers two through five-year-olds quality, God-centered education during the week.
Kindergarteners & Grade School – Children ages 5-10 have many chances to grow in the Gospel: Sunday School classes are offered every Sunday morning to teach children the content of our faith. During the school year, Wednesday evenings are time of fun and discipleship in small groups at Kids Club and 4.5 Connect (for 4th and 5th graders).
---