Saturday, February 25, 2023, 9:00 AM - Sunday, February 26, 2023, 10:00 AM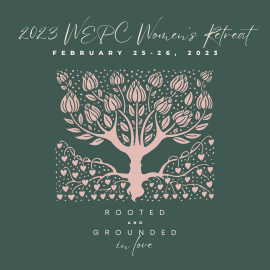 You are invited to an overnight retreat at the beautiful Roslyn Retreat Center, in our very own Richmond VA. The retreat will allow us time to rest, reflect and be refreshed in the gospel. It will be a weekend truly "rooted and grounded" in the love of Christ. We hope you can join us!
WHEN:
• Saturday, February 25th beginning at 9 AM through Sunday, February 26th around 10 AM.

WHERE:
•Roslyn Retreat Center

WEEKEND OVERVIEW:
Saturday morning will begin with Bible teaching, followed by lunch and free time in the afternoon; on Saturday evening, we will gather for teaching, dinner, and fellowship time. Sunday morning will include breakfast and worship.

REGISTRATION:
Cost: $150 (through January 1, 2023) / $180 (beginning January 2, 2023)

This price includes:
Lunch, dinner, and breakfast
Double occupancy lodging, with two queen-sized beds per room (At this time, we apologize that we are unable to accommodate single occupancy in a room.)
Registration Notes:
Space is limited
At this time, we are only able to register women who are members or regular attenders of WEPC.
Beginning January 2nd, the retreat price will be $180.
Final deadline for registration and/or cancellation is February 3rd.
Payment and Scholarships:
Please do not let the cost keep you from attending.
If it is helpful, the registration fee can be paid in installments.
Scholarships are also available.
Please contact Heather Oberle to discuss paying in installments or scholarship assistance before early registration ends January 1st.

OUR SPEAKER:

Our speaker will be Renee Higgins, from St. Louis Missouri. Renee is a winsome and wise follower of Jesus Christ, who loves the Bible and loves praying for the work of the church. During our time together, Renee will offer biblical and personal reflections about what it means to be rooted and grounded in the love of Christ as she also invites us to reflect on our own hearts. This time will be an opportunity to listen, laugh, rest, and reflect on the work of God in our hearts, as individuals and as members of one body, as we share our lives together.