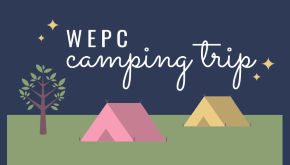 Friday, September 16, 2022 - Sunday, September 18, 2022
Join us for a fun-filled weekend as we camp and fellowship together!
Location: Sherando Lake (96 Sherando Lake Rd, Lyndhurst, VA)
Cost: $45/family (All payments can be made that weekend in person to Chris or Andi Alberts. Cash or check accepted.)
RSVP with number of adults & children: Andi Alberts / 269-275-5983
Details:
Arrive at Sherando Lake recreation area Friday afternoon/evening/whenever you can.
Tell the people at the entrance that you are with the church group up at the group sites.
The sites we have reserved are for tents only, and there is no electric hookup.
There are bathrooms and showers nearby and communal water spigots at each group site.

Saturday morning:

We will make an abundance of delicious pancakes for everyone! We will provide the pancakes, butter, and syrup! We'll also have plates and forks, but if you bring your own, that's even better.

Saturday afternoon:

We will have field games/relays for kids AND adults that are interested. Oh, and PRIZES. Participation will be highly encouraged.

Saturday evening:

We will have our potluck dinner, with Kentucky Fried Chicken provided. We ask that each family bring a dish to share. (main dish / salad / dessert).

Firewood will be provided.

Remember, there is NO cell phone service on the mountain.
Kids: bring your bikes, ride-on toys, helmets, and band-aids!